Chocolate, Sardines, and Biking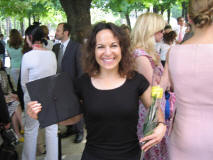 I kind of gave up on the color diet--you remember, the one where you can only eat natural bright colors but no Leeloos--and I came up with a new one. It's the sardine and chocolate diet. It sounds so simple you wonder why no one ever thought of it before! But it is more complicated that you can imagine! You can't just eat any sardines and any chocolate--NO! You must only eat sardines in olive oil and chocolate darker than 70%. You can drink coffee and milk, and you may sneak in a tomato with your sardines. A cucumber, OK. If you really want some plain yogurt, you can have a spoon or two. If you hate plain yogurt you can sometimes taste a little fruit flavored yogurt. That means you can also eat an apple if you really are in the mood. An orange in the morning is OK, and some cauliflower is fine in the evening. If you really like chicken you can have one for breakfast on alternate days. Once in a while you can substitute a chocolate cherry for the 70% chocolate. This is really a great diet. The only problem is, it doesn't work.
You may be wondering how I got the idea for the sardine-chocolate diet, so let me admit that I am fickle and my ardent desire for chocolate cherries has been replaced by a yearning for those small silvery fish. They don't scream as loud, since their heads have been snipped off before being canned, but they are just as much fun to discover, collect, and eat. My search for the perfect sardine has commenced over a month ago. Instead of a fresh cherry with a pit and a non-sugary liqueur filling nestled inside deep dark chocolate, I now quest for a large shimmery skinned creature filled with unborn eggs with a robust crunchy bone center covered with delicate flesh, swimming in dark cold-pressed olive oil. I have tried about 25 different types of sardines and I'm starting to put together my list of favorites. Do you think my research deserves its own website? It might save people all over the world from eating sardines that are too salty or too small and chewy.
The other day I went to the Salon des Saveurs at Espace Champeret. I had a free entry. My spice company sends me one every year. It's like a mini-salon d'agriculture (no living animals, only dead food) and since I missed that one (senior thesis or something) I made sure not to miss this one. I came home with only one bar of really good 80% chocolate, no chocolate cherries at all (my supply is dwindling and I'm not doing anything about it. Scary.) but 5 cans of sardines. Millésimées all.